Template Digitizer
Template Digitizer:
Etemplate: laser digital template 2D and 3D
Proliner from Prodim.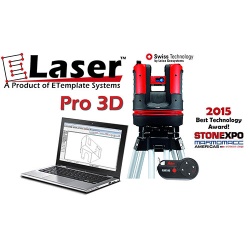 from Etemplate the Elaser Pro 3D template laser system for 2D and 3D measuring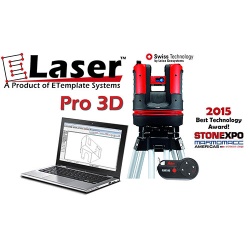 Elaser Pro 3D template laser system (Disto 3D)
Elaser Pro 3D template laser system


ELaser™ Pro 3D is a complete 3D measuring and modeling system. It measures freeform 3D surfaces as well as 2D planer geometry.
The ELaser Pro series provides the ultimate in 3D measuring accuracy and control.  Using unique best fit calculations and the ability to define 2D work planes, ELaser creates intelligent CAD/BIM models that are friendly to CAD solid modelers, cabinet design software, and other design software solutions.


Architectural Millwork Applications
Cabinet Layout and Design
Stairs and Railings
Wall Cladding
Floor Plans
Indoor/Outdoor
Commercial Spaces large or small
3D Modeling/BIM
Quality Control/Construction verification
Glass/Ornamental Metal Works
Soffits/Windows/Doors/Arches
Countertop Templating/Full Height Backsplash
Shower Enclosures/Tub Surrounds/Fireplaces
Any 3D or 2D layout need
Automatic self leveling (also notifies user if bumped)
Remote control or manual positioning of laser point
Built in routine for automatic relocation of the system for larger spaces
Real-time video 
Cross hair target finder in video (great for outdoor use)
8x zoom lens (great for distance measuring)
Takes digital photographs for jobsite verification
Wi-fi or USB connections
Eight hour rechargeable battery life
2+1 year manufacturer's warranty
Real-time display of measurements as drawings on the laptop screen 
Positionally accurate representation of the measured points in the camera display 
Projects installation points onto jobsite surfaces 
Can measure difficult to reach points around corners 
Finds plumb and level points
Remote linking thru wi-fi to office for real-time feed
Measures up to 160' radius from a single location (50 Meters)
Accuracy:
1mm over 10 meters (~1/32" over 30 feet)
2mm over 30 meters (~1/16" over 100 feet)
from Etemplate the Elaser Pro 3D template laser system for 2D and 3D measuring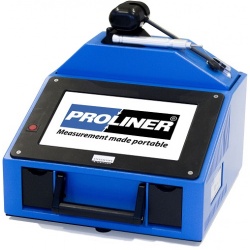 Proliner (Proliner 7CS)
Prodim - Proliner
The Proliner Principle is very simple: measuring with a wire. The Proliner has a measuring head that can be rotated in every direction and has a wire that can be stretched out for several meters. At the end of the wire is a metal measuring pen. With this measuring pen you can simply mark the relevant points. These points are directly translated into a digital DXF CAD file.

With the Proliner you can measure straight, curved and very complex shapes in an instant. You can measure any object in horizontal, vertical or slanting position. The digital drawing can be used to operate your CNC-machine, to print or cut your plots or as a bases for your design.

But the Proliner is more, besides being fast, user-friendly and accurate, it stands for reliable and lasting. Clients who bought the Proliner 10 years ago still use the Proliner every day to full satisfaction. Besides measuring, the Proliner is used for layout work, reverse-engineering and quality control.
Prodim - Proliner digital template system